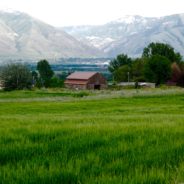 This is a very common question and the answer depends on a few things. Most people like the idea of having enough land to graze animals, so that will be the focus of this post. When discussing how much land an animal needs, you would first calculate the production of the pasture and the intake of the animals. That calculation will tell you the "animal units" your pasture can support. For the sake of this post, we will simplify this equation a little bit. A steer is a little less than one animal unit. A horse is a little more. Sheep and goats are about half an animal unit. So what does that mean? Again, without getting into the technical calculations, if your pasture consistently grows mostly grass that your animals will eat, it can support a certain number of animals units. The average usually ends up being about an acre per horse and cow and about half an acre per sheep or goat. The number of animals you have per acre is called the stocking rate. When looking at farm and ranch real estate to purchase, take not if a certain stocking rate is mentioned. This can give you some clues about the productivity of the property. Summer Feed From Pasture Grazing Now let's talk about the major "if" of the previous paragraph. If your pasture grows grass. A pasture that is going to support animals must be mostly grass. If it is weeds, they won't have adequate feed. If it is partially weeds, you need to have a plan to get them under control or they will eventually overtake your pasture. If it is dirt then it isn't a pasture. You will need to plant an appropriate seed mix and wait at least a year before putting animals on your pasture. If it is a legume, like alfalfa or clover, you'll need to replant to a grass-mix or inter-seed grass into the land to avoid bloat issues. Effective Grazing Strategies Maximize Land Use Having a grazing strategy is important for a couple reasons: It will make the pasture you have more efficient and, if needed, it can allow you to increase your stocking rate slightly. A grazing strategy simply means the way you allow animals to graze your land. You could give them free run of all of it, or you could divide it into parcels that you rotate through. Dividing your pasture encourages animals to graze more evenly and it's also a great way to rest part of your pasture and allow it to grow back so you constantly have a supply of fresh feed for your animals. The most effective division is 4-6 parcels, but if you only have a couple acres you can get away with 2 parcels if you have an appropriate stocking rate. This source shows a great way to divide a pasture for rotational grazing and additionally outlines some great pasture grasses to use. Water Access on Your Land In Utah and Idaho, it is very important that you understand the water rights or shares that are associated with your property. Water will determine what thrives on your property, what you can plant, and how many animal units you can support. Not having access to water isn't always a deal breaker for farm and ranch real...
read more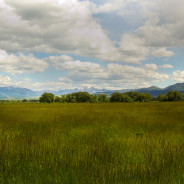 Bacon ipsum dolor amet rump beef ribs ground round t-bone. Hamburger leberkas meatball turkey tongue capicola frankfurter filet mignon corned beef ham hock sausage picanha ground round jowl. Ham tenderloin pork chop bacon ribeye. Salami pork chop porchetta venison, pork short loin turducken frankfurter flank kielbasa ball tip. Porchetta jowl prosciutto drumstick ball tip. Tongue alcatra ham hock, prosciutto fatback tenderloin sirloin short ribs. Jerky strip steak swine cupim andouille, brisket pork belly tail flank corned beef bacon. Chuck ham hock salami, cow kevin ground round meatball t-bone leberkas ham. Salami short loin meatloaf sirloin strip steak filet mignon. Ham hock andouille pancetta tongue landjaeger. Porchetta strip steak kielbasa hamburger beef shankle frankfurter pork belly meatloaf. Chicken tail shankle picanha, meatball drumstick sausage. Ham hock beef ribs bacon, pork chop ribeye boudin pork loin alcatra ham tail salami venison sausage. Bresaola rump chuck prosciutto bacon. Tongue ham hock strip steak pancetta capicola short loin shank landjaeger drumstick sausage. T-bone pork swine ground round ham hock, andouille alcatra cow meatball jowl pork chop shankle short loin brisket pork loin. Tail pork loin ball tip porchetta, pork belly tri-tip short ribs. Filet mignon shoulder tail meatball tongue cupim ribeye jowl bresaola venison kielbasa turkey brisket. Pig sausage turducken landjaeger biltong picanha. Venison kielbasa shankle picanha beef ribeye swine, chuck cow chicken ham ball tip andouille landjaeger. Beef ribs short loin tail, cow filet mignon chicken porchetta ground round. Turkey sausage pork loin, andouille meatloaf tri-tip leberkas tongue. Pastrami flank boudin corned beef andouille spare ribs, picanha porchetta jowl venison kevin shoulder cow ham. Biltong spare ribs prosciutto tail. Tail ham shank porchetta jerky chuck pancetta flank swine. Rump landjaeger ham tongue, doner swine salami andouille spare ribs. Bacon porchetta frankfurter, prosciutto salami kielbasa flank pig pancetta doner. Filet mignon strip steak drumstick ground round picanha cow tri-tip meatloaf beef beef ribs meatball turducken ball tip venison pork chop. Shoulder frankfurter ham hock ribeye, hamburger pork chop ground round pork pig t-bone. Sausage ham hock shankle pork loin short ribs jowl. Pork belly tail ball tip, strip steak prosciutto kevin turducken short loin kielbasa chicken shank alcatra venison pancetta. Filet mignon doner meatloaf, shoulder beef ribs beef...
read more
Hello my name is Taylor Zane Clark. I am a successful Real Estate agent and I love what I do. I have grown up in a small town in Cache Valley and have lived here for most of my life so I know Cache Valley very well. I enjoy hunting, hiking, wildlife viewing and especially fly fishing. Living here has afforded me the opportunity to pursue and enjoy my passion for the outdoors and still have loved ones close. I enjoy and practice real estate for those and many other reasons. I get to help people make a home in this great area. Please call me and allow me to help you find your special area of the valley or to get the proper market value when selling your home or property. Thank you and I look forward to meeting you and being of service. How would you feel coming into an area for the first time or relocating to a new area and having complete comfort and knowledge with where you are going. Great right? well with me as your agent you can have that comfort. I have lived in cache valley for most of my life and I know the area and the opportunities here very well. I love this valley and the many wonderful outdoor opportunities it possesses. Please call me if you want professional representation or if you would just like some information on where to go fishing or hunting that is also a specialty of mine. I would love to help you get in a new place to call home. Thank you and have a wonderful day. I look forward to being of service as your real estate...
read more